An experience in the heart of Palermo that will surprise you, as it did me: no less than the Asado & Friends Experience!
Frank is an American that met his Argentinean wife in Chicago and came together to settle in Buenos Aires.
The proposed experience is very complete: they open their old Palermo house doors to you; this being built in 1890 and formerly a baker shop.  This is an amazing House, like a huge warehouse with vintage touches and modern design. Filled with plants and murals.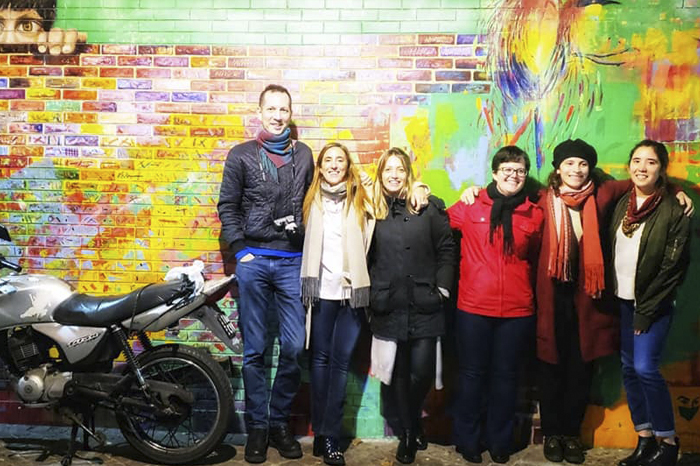 As this wasn't enough, and the place is already pointing out, they have a big yard with trees, proper lighting, a big grill ready for a huge Asado and a clay oven, always on to add another warmth touch to the environment.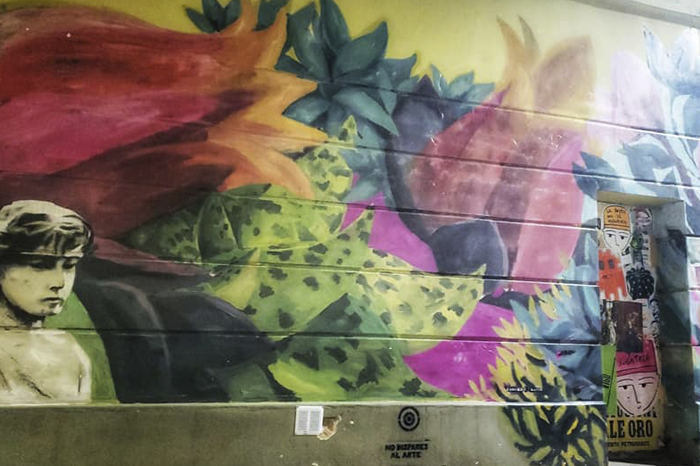 First things first: when you arrive to this house, the owners welcome you and after a small tour to appreciate all this I'm telling you about (sorry for the spoilers), you all head to the butcher shop to buy the meat cuts you will later on eat and taste.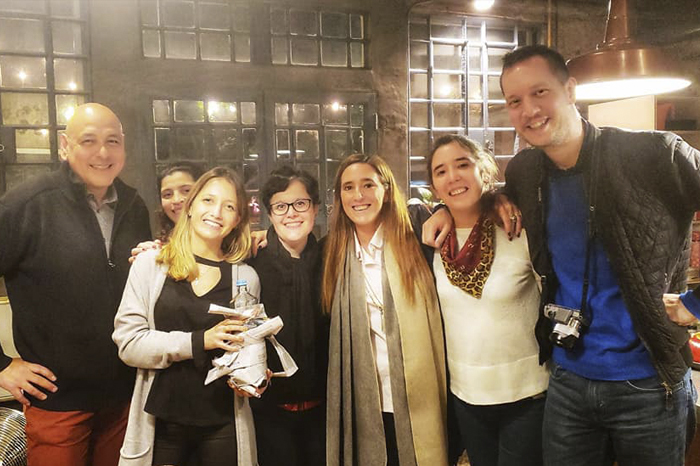 This Experience could be either in their house, or one of their neighbors', since they kindly joined to offer their houses as well.
From that point on, a surprising Graffitti tour through Palermo neighborhood is up: Frank gives you the most incredible tips and information, and also shows you the contrast to what those places used to look like, before this area exploded in the touristic boom.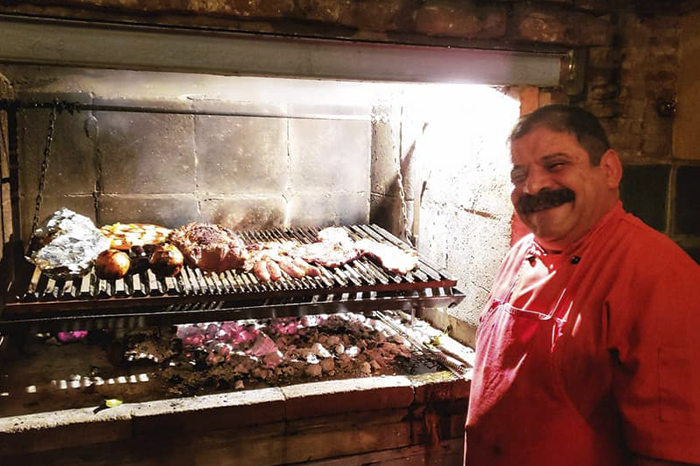 You will also be taken for a walk in the Pasaje Borges, where naturally, a Borges graffiti is located, and the amazing wall art with the green background that you can see the ALCHEMY DMC Team standing in front of, this team of – tonight – tourist that shared all together this amazing fulfilling night!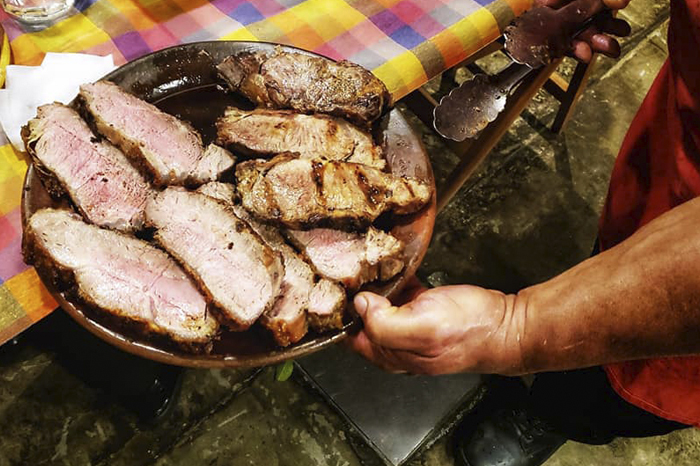 After the Graffiti walk, it is time to head back to Frank's place: We all participate in different stages of the Asado process, from Chimichurri mixing, deluxe salad preparing (spinach, mango and caramelized pecan nuts), to aiding with the grill fire starting (with an original way of doing it, very Argentinian: no gas involved). Simply said: it was a whole new way of doing things we thought we already knew how!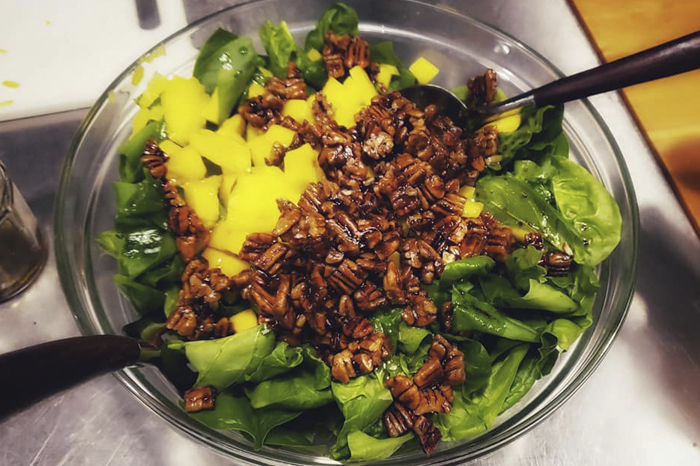 As the Argentinian tradition demands (and Frank being more Argentinian than some locals), it is time to wait for the Asado to be ready while eating a proper "picada" (cold cuts, cheese, olives and other bites), with a good wine and some Fernet as well (as you can see, hunger isn't involved in the evening at all).
It is finally Asado time!! Calling it impressive would be under doing it: nothing is missing here, chorizos, morcillas (blood sausage), mollejas (gizzard), pork "matambrito" and, naturally… top notch red meat cuts! They will take the time to patiently take note of the cooking point everyone would like to have them. As we have a saying in Argentina: "Round of applause for the "Asador" (grill man)" who was beyond a genius!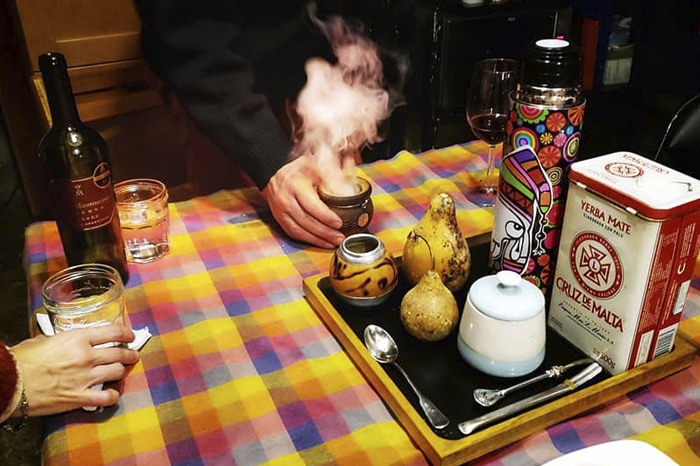 It is dessert time: get ready for more surprises… since the idea here is to taste the typical traditional food we have, but in original different ways than what we are used to… Frank prepared some "burnt" mate for us. This can only be done after the grill is on, because he adds a sugared hot coal, forming some kind of caramel to the mate. Only after this, you proceed to taste it, with an intense sweet and smoked flavor worth trying! Dessert: another classic remixed! The famous "vigilante" (cheese and sliced jam – normally sweet potato or quince jam), with a touch of sea salt! This will start being used in my house as of right now.