Have you ever wondered how cold the ice could be? Technically it's 0°C or 32°F, of course. But there is a special way to truly feel the ice by exploring one of the most incredible and unique glaciers in the world. We invite you to discover one of Argentina´s natural wonders- The Perito Moreno- a one-of-a-kind glacier.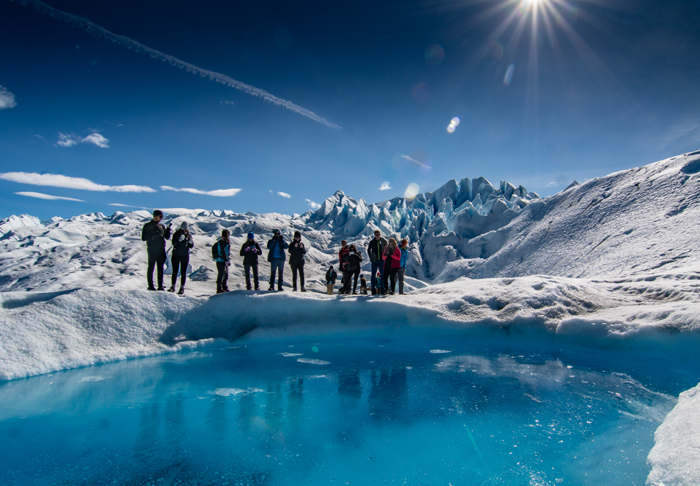 This amazing experience begins in the small port of Bajo de las Sombras- located within the National Park and 1.30 hour away from El Calafate town. Here you board a boat and sail the Rico arm of the lake, enjoying the fresh air and stunning views of the Perito Moreno glacier's front wall.
After 20 minutes of navigation, upon arrival to the other side of the lake, you greeted by a specialized bilingual mountain guide, who leads you to a small refuge where you can leave your personal items and go to the restrooms. As you will be trailing through the wilderness, there are no toilets so take advantage of it!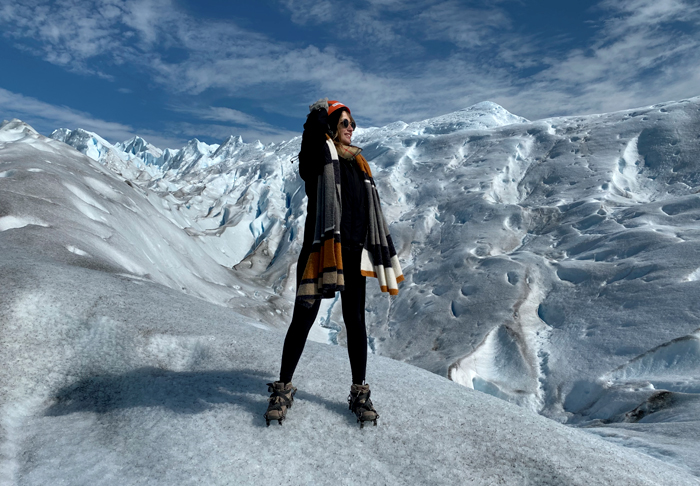 In groups of no more than 20 people, you will follow your guide along a long walkway within the forest until reaching the shores of the lake once again. The guide explains about flora, fauna and general glaciology of the region and also about the particular phenomenon that happens in the Perito Moreno Glacier which eventually produces its cracking.
Before stepping on the ice, you will be given a helmet and a pair of crampons – the guide will show you how to use them – and here's where the true experience begins!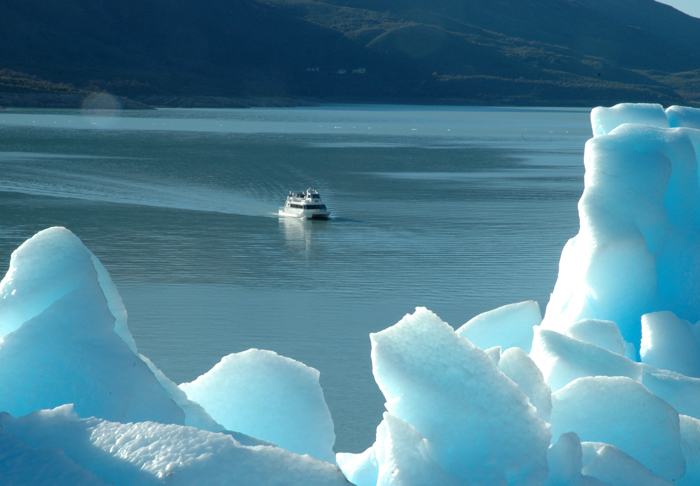 Now you become more than just a witness of this natural ice paradise with plenty of ice formations of the most incredible blues. You are now part of it. The glacier catches you in many ways as soon as you set foot on it. You start building a new connection with nature while you walk inside it… deeper and deeper.
Your ears are now filled with the sound of nothing but the whisper of the crampons burying inside the ice. Your eyes are now full of shapes, shades, hues of white and blue and you just can't get enough of the views. Forget about the camera, the social media and the rest of the world: There is no way a photograph can portrait this beauty. More important than this: it cannot treasure the true feeling of this place. Take your time to be filled by its peace, its temperature, its everlasting sensation.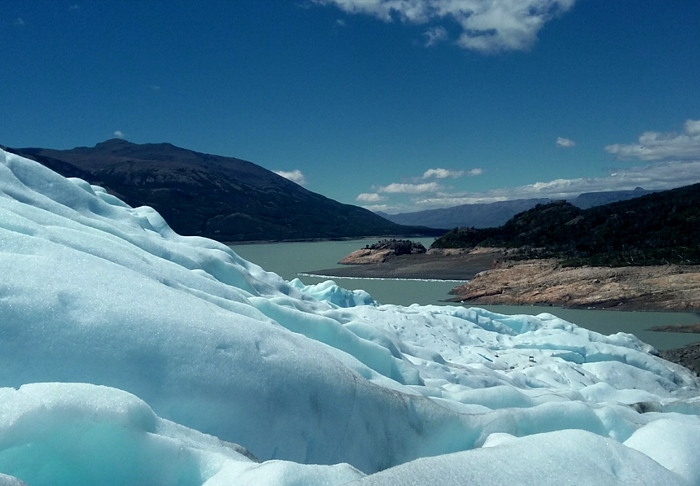 There's no better way to peak this amazing experience than with a glass of whisky served on the glacier's rocks. The best way to say: "Cheers to new adventures!"
At the end of the trekking, you return to the refuge along the same path through the forest and then board the boat on your way back to town. The glacier will still be gazed so there's enough time to continue enjoying this stunning landscape.