BARILOCHE
BY NELSON GALDEMAN
FROM IT DEPARTMENT
BARILOCHE
BY NELSON GALDEMAN
FROM IT DEPARTMENT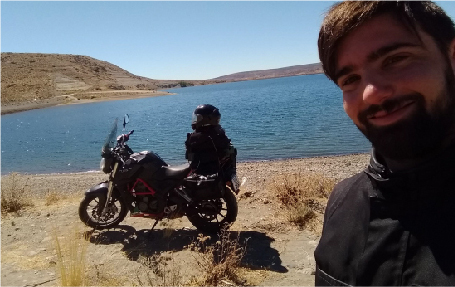 BARILOCHE
San Carlos deBariloche, better known simply as Bariloche, is a city located in the Rio Negro province, ashore the Lake Nahuel Huapi; and beyond being one of the undisputed most visited spot in the Patagonia, it is also one of my personal favourites.
I am deeply fond of its natural reserves, with crystalline water lakes, more forest area than we could count, stunning mountain views all around… I simply enjoy getting lost in nature, wandering unknown paths and sitting to catch a breath and enjoy a few "mates".
It had been a long time since my last visit, so last March I set on a journey combining my three passions: travel (as a good alchemist knows how), riding my motorbike, and enjoying a nice, exciting Motocross race. Every year around this time, the Motocross World Cup is disputed in Villa La Angostura, and I was determined not to miss it.
I organised my vacation time, equipped my motorcycle for a +4000 kilometre ride, and headed to the highway with no more thoughts in mind. As I had plenty of time, I began my trip in the beautiful Bariloche, enjoying the adrenaline-filled curvy mountain roads and everything this magical place has got to offer. I continued my way towards Villa La Angostura, and fulfilled the dream of doing the 7 Lakes Journey, that leads and ends in the beautiful San Martin de Los Andes.
This was definitely an amazing, special, and very memorable trip for me.
ARGENTINA BY THE ALCHEMISTS