TIGRE DELTA
BY MELINA SMIGLIANI

FROM MICE DEPARTMENT

TIGRE DELTA
BY MELINA SMIGLIANI

FROM MICE DEPARTMENT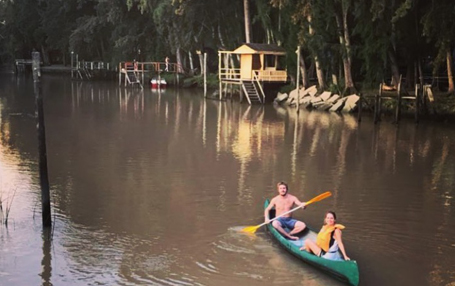 "Located at less than an hour from the capital city by bus, car or train"

TIGRE DELTA
Since I work in tourism, I had the opportunity to visit amazing cities in Argentina, but nothing compares to Delta del Tigre. Why? Well, I have many reasons, but the most important is that it is located at less than an hour from the capital city by bus, car or train.
It may be hard to believe that a few minutes away from the chaos of the city, Nature and silence seem to have defeated the piles of concrete and the frenzy of urban life. This visit to Tigre, the gateway to the astonishing Paraná River Delta, will allow us to board a catamaran boat to discover thousands of islands and islets crisscrossed by rivers and brooks.
The area is perfect for eco-tourism and adventure activities, photographic safaris, camping, ecological expeditions, fishing, nautical sports, and bird watching.
There are plenty of hotels, restaurants and nautical clubs on the shores of rivers and streams.
In my opinion, this is a unique natural attraction, a real jewel of Argentina.
ARGENTINA BY THE ALCHEMISTS