MENDOZA
BY VALERIA CANELO

FROM GRAPHIC DEPARTMENT
MENDOZA
BY VALERIA CANELO

FROM GRAPHIC DEPARTMENT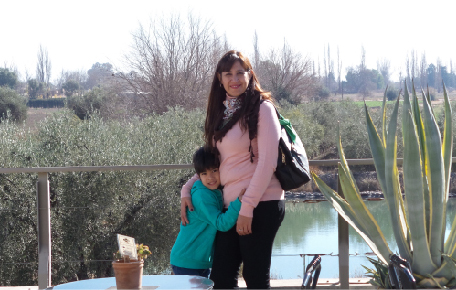 "Great place
for a family trip"

MENDOZA
For me, arriving to Mendoza means changing the heavy air of the city of Buenos Aires for a scent that is easy to get used to. This scent combines many; It is unique and beyond description. Whether you are visiting the city of Mendoza with its very well maintained parks and plazas or wondering through the pedestrian street, you change your own "Porteño" rhythm to fit in the Mendoza's.
This time I was travelling with my family and we wanted to see more!
Moving in zig zag through the route towards the mountain range, we find countless and beautiful places to visit. One of them is Villavicencio's Natural Reserve. In this place you can admire the mountains steppe, its wildlife, the quietness and also the amazing hotel in the middle of the mountains. The garden of this hotel was designed by famous landscaper Carlos Thay's son. Even the water of its natural springs tastes different!
We went up the breath-taking "Camino de los Caracoles" ("snails' way") and we stopped many times in the view points. Once we got to the top, we went to the "Mirador del Balcón" which is the lookout of an imposing gorge.
We went past the "Cruz de Paramillos" and reached a height of 3000 mts above sea level. From this point we could enjoy the magnificent beauty of the Andes mountain range and spotted the highest mountain of America: The 6962 metres-tall Aconcagua.
The way down from this place is as beautiful as the way up, and it ends in the city of Uspallata. This place is lost in time and still keeps the magic of the Mendoza's valleys.
This whole way cannot be missed by anyone who visits Mendoza. It is a great place for a family trip and for those who want to connect with nature in an exceptional way.
It is one of my favourite places in the world!
ARGENTINA BY THE ALCHEMISTS