JUJUY
BY MARIA GALLEGO

FROM LEISURE DEPARTMENT

JUJUY
BY MARIA GALLEGO

FROM LEISURE DEPARTMENT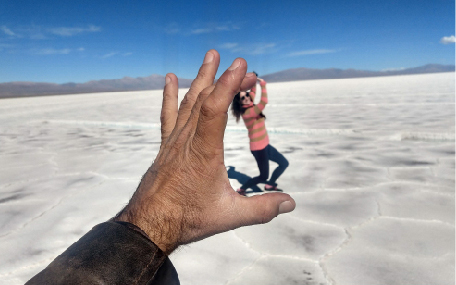 "Geologists have a blast here!"

JUJUY

Argentina is a land of views. It is really amazing that you can find so many different landscapes in the same country, and I personally feel proud when calling this place my homeland.
There is so much to see in here besides the internationally famous Patagonia. On this opportunity I was selected to accompany 5 lovely ladies on their Site Inspection and I travelled for the first time to the most Northern Province: Jujuy.
We actually stayed in Salta but did a full day tour to Jujuy and its outstanding landscapes immediately caught my eye.
The tour started very early when our gaucho-guide, Kitu, picked us up. This day was full of surprises from the very beginning. The route was surrounded by mountains and gorges. Our guide told us some regional stories and legends while listening to folkloric music, which is one of my favourite genders.
We first visited Purmamarca, home of the 7-colours-hill. Pink, lilac, brown, red, green, yellow and ochre gather together in this hill as in a crazy painter's palette. Geologists have a blast in here! Purmamarca is an old and picturesque little town that has its own character and energy. Unpaved streets, artisans, adobe mud houses, are all part of its very own landscape.
At some point, the bus started going up a hill… It continued up and up until we reached 4100 metres above the sea level. Fortunately, we had bought some coca leaves to chew which prevented us from altitude sickness.
Then, we headed to Salinas Grandes, where a picnic was set for us. We ate empanadas, different sorts of cheeses and cold cuts. Lunch in here was a total success, as we could enjoy our meal surrounded by an overwhelming whiteness. I could have enjoyed it more if only I had brought my sunglasses with me…
We were given a lot of time for photo shoots and walk around these marvellous salty lands that seem to be never-ending.
There were so many towns and places to visit in the surroundings but not enough time for everything. The one thing about this country is that it doesn't matter how much time you spend in here, you will always need more.-
ARGENTINA BY THE ALCHEMISTS