EL CHALTEN
BY CELESTE SPACECH

FROM LEISURE DEPARTMENT

EL CHALTEN
BY CELESTE SPACECH

FROM LEISURE DEPARTMENT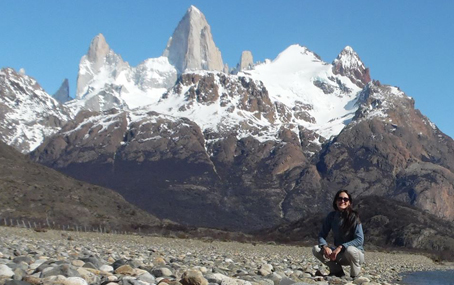 "This is a great destination for adventure travellers"

EL CHALTEN
This is a great destination for adventure travellers. I am really a mountain lover so, I have spent my time there specially for doing trekking activities. The most stunning attraction in El Chalten is the Fitz Roy Mount, a very famous piece of rock because its difficulty for professional climbers. There are many ways for watching it but I have decided to trek the "Laguna de losTres" Path. Almost 3 hours climbing and 3 more hours to return. This path is a little bit exigent but it is really worth to do it, specially because the incredible landscapes I was able to enjoy. I have got into the forest having the opportunity to see wild birds as the beautiful woodpecker and also a Huemul Deer.
I went to Lago del Desierto on the second day of my trip, a lake located one hour away from El Chalten, and navigated this transparent water source (which has an important story about border claiming between Argentina and Chile). After the navigation, I have reached the VespignaniReserve. There, I choose the one hour path for getting an incredible view of Vespignani glacier.
The Third day I choose the Cerro Torre trekking. It was less hard than Laguna de losTres but same amazing, regards landscapes. At the end of the trail I was able to get best views of Torre Mount and Torre Lagoon with big pieces of ice floating over the water.
Regarding the services in town, this is a very little village with no more than 1000 stable settlers, but against what we think I have founded great places for having meals as La wafleria or La Tapera and also a Craft Beer Place named " La Cervecería".
Regarding accommodation service, the village has many options. I have stayed in a 3 stars Hotel named El Pudu Lodge, a very comfortable option and it also has a great location due to it is very near from the beginning of the main trekking paths.
To sum up, El Chalten has blown my mind. It was very sad to come back to the city after that experience. I definitely will return there!!
ARGENTINA BY THE ALCHEMISTS