EL CALAFATE
BY ROMINA BERRO

FROM LEISURE DEPARTMENT

EL CALAFATE
BY ROMINA BERRO

FROM LEISURE DEPARTMENT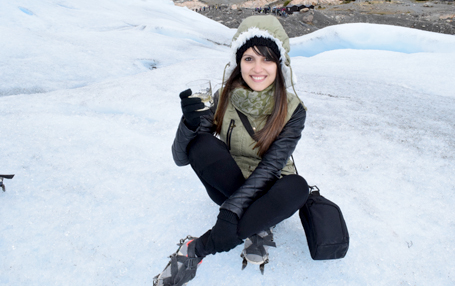 "There is an experience that you cannot miss: Minitrekking"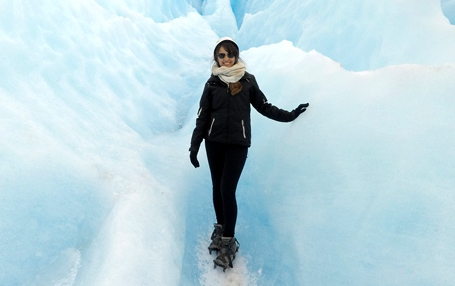 EL CALAFATE
If you travel to El Calafate, there is an experience that you cannot miss: Minitrekking – Walking on the ice. This is undoubtedly one of the highlights of any Patagonia trip.
Perito Moreno is one of the most famous and breathtaking glaciers. One of the most intriguing things about this glacier is that even though it is getting thinner, it continues to advance while most of the world's glaciers are retreating.
We visited it in April just as the leaves were changing and it was great to see the contrast of the reds and oranges with the deep blue of the ice into the water. So if you can travel on March/April, it can be a bit more enjoyable.
Once we arrived in Los Glaciares National Park, the tour began with a boat ride across to one edge of the glacier.
On solid rock, expert guides were waiting for us to give all the necessary information. All equipment including crampons is provided.
After a short and nice walk through the forest, we started the trekking which duration is about 1:30hrs. In some part of the circuit, we could see the typical glacier cracks and it looked absolutely stunning.
When the tour was ending, all of us celebrated the great experience with a whisky toast with chocolates.
After the trekking, we took the boat again to return to the other part of the park. We had a free time to visit the platforms and balconies that allowed us a walking circuit to view the southern and east-facing view of the glacier.
While you are walking on the balconies, pieces of ice are constantly caving off and falling into the green water below!
I've never seen a glacier up close before and I was surprised of how crazy amazing it was to behold in person.
Before arriving, I had seen many pictures and had even heard of its magnificence, but trust me it's shocking to see up close.
ARGENTINA BY THE ALCHEMISTS